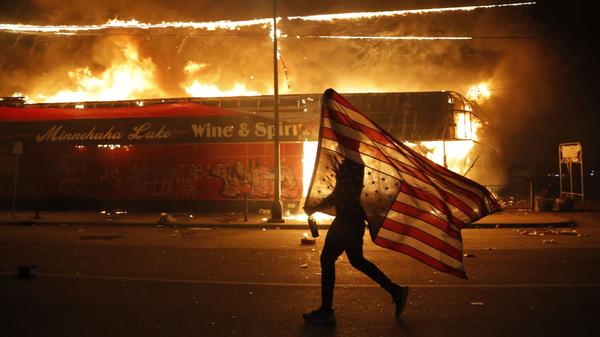 "And I must say tonight that a riot is the language of the unheard. And what is it America has failed to hear? … It has failed to hear that the promises of freedom and justice have not been met. And it has failed to hear that large segments of white society are more concerned about tranquility and the status quo than about justice and humanity." – Martin Luther King
"This is not in the spirit of Martin Luther King Jr. This is chaos." – Atlanta Mayor Keisha Lance Bottoms
"I understand having anger and grief during this time. But this is not that. This is wanton destruction and violence." – Minnesota Governor Tim Walls
"This is what it looks like when justice has been denied for a long time." – Ben Jealous (former NAACP president)
Our nation is now dealing with two crises: the ongoing COVID19 pandemic (current death toll in US is 109,000 at the time of this writing) has been eclipsed by civil unrest in the aftermath of the murder of George Floyd by Minneapolis Police. Peaceful protests across the nation have turned into violent clashes with police and National Guard, along with a rampage of looting and destruction.

There is a simmering rage in our cities, like the dry tinder of a forest just waiting for some spark to be lit and explode into a raging fire. The horrific murder of George Floyd — in broad daylight, at the hands of callous police officers, who knew they were being filmed, with bystanders begging them to stop — has proved to be that spark.
As a white pastor living in a predominantly white community just North of Minneapolis, with many friends in the areas affected, I've been thinking a lot about what's happening. I know that many voices are weighing in on this situation. I'm adding to that cacophany today because I think that members of my congregation should hear my perspective on this, and I offer it in the hope that it might help them, and maybe some others, as we think, pray, and work together on this.
1. The explosion of violence and looting we are seeing is not just about racial tensions. *
*After several days have passed, and new events have emerged, I've changed my mind about this point somewhat. Rather than erase it, I'm just going to leave it as is, but add some "clarifications and second thoughts" at the end of this section.
In addition to a powerful wave of rage in response to yet another killing of an unarmed black person (more on that later), there are two things going on — one is getting lots of attention, and the other not enough.
What's getting lots of attention is that there are different kinds of people doing different kinds of things — there are legitimate protesters and callous opportunists. We keep being reminded that there are "bad apples" swooping in on lawful protests, and their goal is to incite violence, steal, and destroy. It's a progression: First there are peaceful demonstrations. Then comes the violence, property destruction, and looting. In nearly every press conference with officials around the US, they've tried to push the narrative that the violent protesters were "not people from our city (or state) … they're trouble-makers or anarchists who are coming in from somewhere else."
There is undoubtedly some truth to this, but it can't be the whole story. There are now protests happening all across the nation. Do all the anarchists have a "not in my neighborhood" rule? Are they all just getting in their cars and driving to a different state to do their looting and destruction?
Continue reading

"Lament in a Time of Rage and Despair"