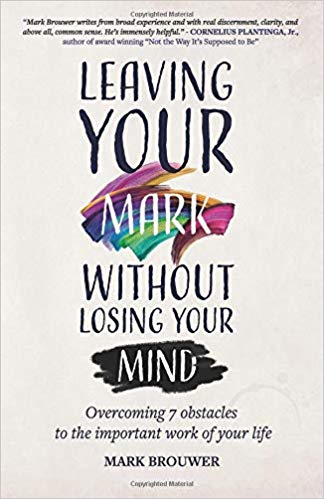 Most everyone wants to leave a mark in the world. Much of what gives our lives meaning is wrapped up in the quest to leave the world a better place, even in some small way. But it's hard. There are many distractions and challenges that pull us off the path. This book focuses on how to overcome these seven challenges:
1. Losing touch with what you really care about and are committed to doing
2. Getting overwhelmed by the needs you encounter
3. Living with confusion about divine guidance and empowerment
4. Struggling with not having enough time
5. Getting burned out by high levels of stress and anxiety
6. Feeling disheartened by conflicts and difficult people
7. Getting discouraged and losing heart
If you feel like it's time to level up your game, and make a bigger difference … this book will show you how. Mark is someone who knows what he's writing about — he's lived it, and he's helped equip leaders around the world to maximize their impact.
–Paula Rizzo, Emmy award-winning TV producer (Fox News) Media consultant, and author of "Listfully Thinking"
This is a timeless message, and it couldn't come at a more important time. It helps clear away the overwhelm, confusion, and distraction that gets in the way of people doing the important work of their lives.
–Mark Laaser, PhD, author of "The Seven Desires of Every Heart" and "The Fight of Your Life"
Mark Brouwer writes from broad experience and with real discernment, clarity, and above all, common sense. He's immensely helpful.
–Neil Plantinga, PhD, President Emeritus, Calvin Theological Seminary, author of "Not the Way It's Supposed to Be"
I love this book so much! Nuanced, clear, and comprehensive. It deals with a variety of challenges, and many of them seem like they were written specifically for my situation. Many will benefit from this material … and want to hear even more.
— Teresa McBean, Executive Director of National Association for Christian Recovery
In a world filled with anxiety, busyness and disappointment, happiness can seem so elusive. Mark Brouwer reflects on this with a pastor's heart and offers guidance that is both realistic and hopeful, helping us take the long view of a life well lived.
–John D. Witvliet, PhD, Director of Calvin Institute for Christian Worship, Professor, Calvin College, author of Worship Seeking Understanding: Windows into Christian Practice